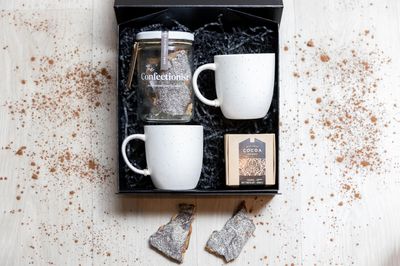 Treat Time Goodness
$69.95
FREE DELIVERY WITHIN WELLINGTON

Please note this product cannot be delivered outside of the Wellington region due to the possibility of damage to products.
Dark Chocolate and Almond Toffee – a delicious treat of indulgent traditional brittle style toffee with moreish roasted almonds, coated with dark chocolate and dusted with fine almonds. Packaged in a reusable glass jar. 200 grams.
West Coast Cocoa. Exceptional flavour. Premium quality West African "Dutched" Cocoa. Each batch of hot chocolate and chai is blended with care in small batches to ensure consistency and premium quality. Gluten-free, dairy-free, vegan. Recyclable cardboard box and plastic wrap can be recycled as a soft plastic.. 50 grams x 2.
Annabel Langbein Home Collection Stone speckled Mugs 260ml x 2. Annabel Langbein Home Collection Stone tableware is designed to be at the heart of your home: well made, durable and contemporary.

High quality black gift box with magnetic close lid. Please reuse - fantastic for storing items!
Our black shredded paper packaging is eco friendly, biodegradable and recyclable, and our contents card has been printed by sustainable eco printers on 100% recycled paper. Even our stickers are eco stickers! Send an eco friendly gift box today.
Gift box comes with small blank note card to add a personalised message to. You are welcome to upgrade by purchasing a beautiful, all occasions greeting card.

SKU: 10000