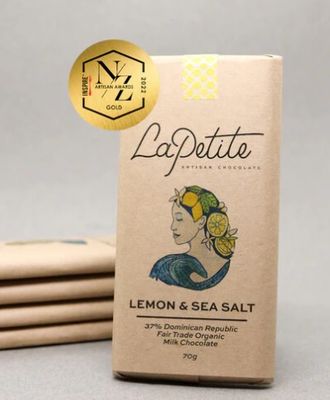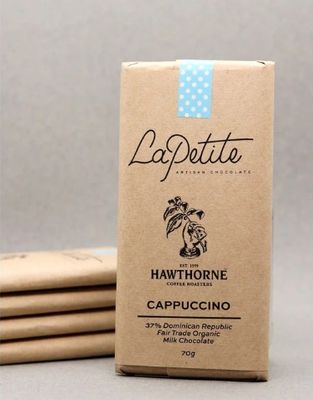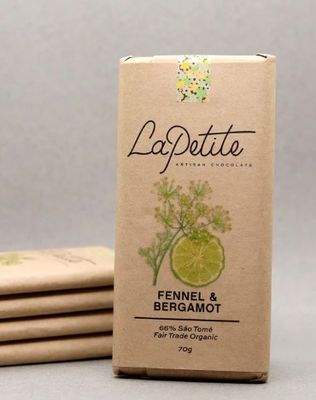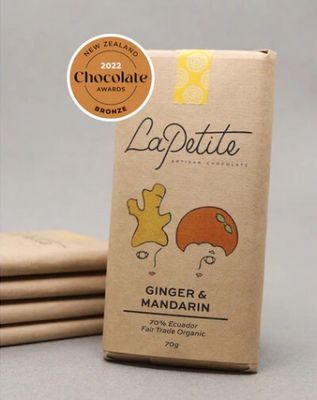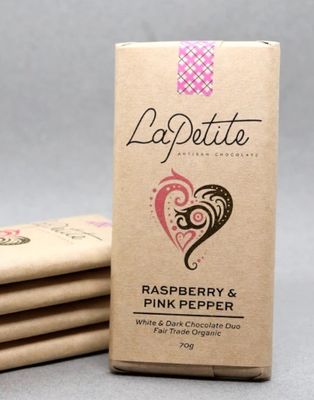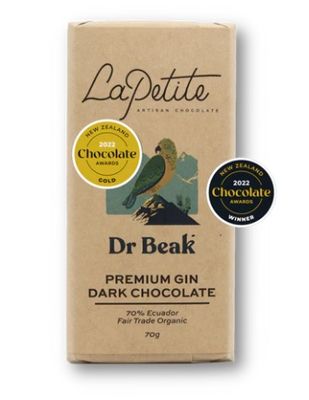 LaPetite Chocolate Block - Various Flavours
$13.95
Please select either a Small or Large gift box first before selecting items.

All La Petite bars are made using one of the world's finest organic, fair trade & single-origin cacao. All chocolates are handcrafted. They are gluten, soy, palm oil free and are packaged in home compostable packaging. All dark chocolate bars are dairy free*.
Ginger and Mandarin brings warmth, pungency and freshness to this full-bodied 70% dark chocolate from Ecuador.
Lemon & Sea Salt: 100% Natural Sea Salt from pristine waters of the far North enriched with locally sourced citrus zest by The Taipa Salt Pig and our creamy milk chocolate.
Dr Beak Premium Gin Dark Chocolate Bar GOLD Medal NZ Chocolate Awards - This bar is handcrafted by artisan chocolatier La Petite in collaboration with Dr. Beak Gin with single origin, organic & fair trade chocolate and Dr. Beak gin botanicals. It is wrapped in 100% home compostable packaging.
Category Winner at the NZ Chocolate Awards 2022 - Flavoured Chocolate Bar Category

Gold Medal Winner at the NZ Chocolate Awards 2022 - Flavoured Chocolate Bar Category

Raspberry & Pink Pepper White & Dark Chocolate Duo: This delicacy is a duo of white and dark Raspberry chocolates in one bar with a touch of Pink Peppercorn. This is a chocolate bar to share, which appeals to different tastes.
Cappuccino: La Petite have once again paired our favorite Hawthorne Coffee, organic and fairtrade beans with our creamy milk chocolate 37% from the Dominican Republic.
Fennel & Bergamot: two Mediterranean native plants paired with our 66% Dark Chocolate from Sao Tome.
Wild fennel is an ancient plant with a unique scent. The seeds have a licorice-like sweet and spicy flavour with citrus undertones.
Bergamot (Citrus bergamia) is a highly aromatic cousin of the sweet orange. Its scent is more floral and spicy than other citrus fruits. Did you know that bergamot is behind the unique flavour of Earl Grey tea?
La Petite's chocolate wrappers are home compostable, and they believe in achieving commercial success while implementing ethical, honest and sustainable working practices.
Please note: the minimum total order value must be at least $69.95 (orders with discounts are also to be this minimum) before shipping to receive FREE DELIVERY. Thank you for your understanding.

SKU: 10000-17-4