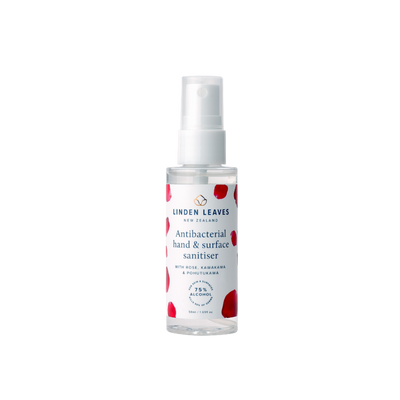 Linden Leaves Hand Sanitiser
$9.95
Please select either a Small or Large gift box first before selecting items.

Keep your hands healthy with Linden Leaves new hand and surface sanitiser. No water required. 75% alcohol formula kills 99.9% of germs.

Contains naturally protective kawakawa extract and conditioning pohutukawa to soothe and protect your hands.
Lightly scented with our signature rose fine fragrance Memories to nurture the soul and relieve stress and anxiety.
Wash hands thoroughly for 30 seconds and use hand sanitiser throughout the day to keep hands clean and sanitised.
Made in New Zealand with natural ingredients and no nasty chemicals.

Scientific studies have shown that hand sanitiser with 70%+ content of alcohol is very effective at destroying the structure of viruses, including corona viruses. The alcohol attacks and destroys the protein envelope that surrounds the viruses which is vital for their survival. Linden Leaves Hand & Surface Sanitiser is made from denatured alcohol. Denatured alcohol is ethanol (ethyl alcohol) made unfit for human consumption by adding a denaturant which makes the product undrinkable but does not alter its potency to destroy viruses.
Please note: the minimum total order value must be at least $69.95 (orders with discounts are also to be this minimum) before shipping to receive FREE DELIVERY. Thank you for your understanding.

SKU: 10000-29