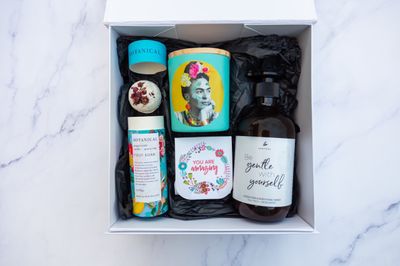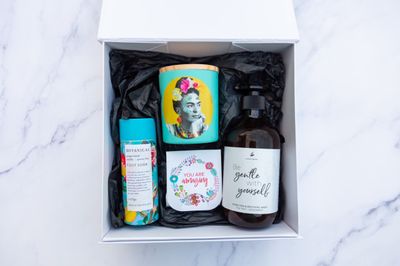 Grounded Goodness Box
$114.95
Out of stock
FREE DELIVERY WITHIN NEW ZEALAND

Peppermint, Vanilla and Green Clay Foot Soak Trio
3 Pack, packaged stylishly into a 100% recyclable paper packaging. Find a quiet moment to enjoy a fizzy treat for your feet. A refreshing blend of Sodium Bicarbonate (alkalising), Epsom Salts (packed with magnesium), Green Clay (purifies) and Almond Oil (moisturising) which helps to revitalise tired feet and ankles..
Frida Scented Candle - lime, sea salt, lemon and sweet melon
Crafted from the world's first natural soy wax blended with coconut oil to give a beautiful creamy finish with great scent throw after you have ignited the wick made of 100% cotton.
The PositiviTeas™ range is a beautiful collection of single-serve Tea Bags.
Lovingly encased within a printed card, you'll find a compostable, plastic-free Tea Bag, filled with the finest premium, organic tea from Charity Tea™. This isn't just a Tea Bag. It's a card, it's a gift, it's an experience!
Premium, whole leaf, organic, ethically sourced tea from Charity Tea™. Compostable, plastic-free tea bag
Santosa's Good For Everything Wash - Tea Tree + Bergamot
Tea Tree and Bergamot combine to offer a botanical blend of natural antibacterial, anti-viral and anti-inflammatory properties to safely cleanse, soothe and moisturise your body, leaving it cared for on the outside, while rendering a moment of calm on the inside.
Our Good for Everything Wash is a safe, multi-purpose natural cleanser, to nourish your skin and care for your health.

500ml PET Plastic and Glass bottles with 1000ml refills available.
High quality black or white gift box with magnetic close lid. Please reuse - fantastic for storing items!
Our black shredded paper packaging is eco friendly, biodegradable and recyclable, and our contents card has been printed by sustainable eco printers on 100% recycled paper. Even our stickers are eco stickers! Send an eco friendly gift box today.
Gift box comes with small blank note card to add a personalised message to. You are welcome to upgrade by purchasing a beautiful, all occasions greeting card.
SKU: 10000-45