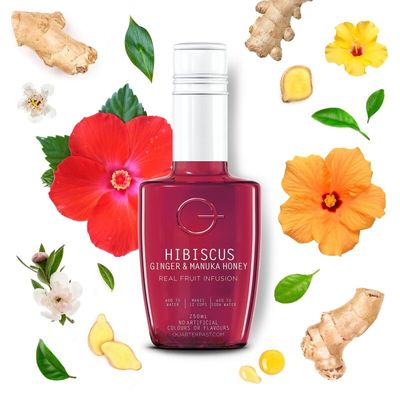 Fruit Tea Infusion: Hibiscus Ginger & Manuka Honey 250mL
$8.95
Please select either a Large or Small gift box before selecting products.
Full flavour with honest ingredients…a better way!
This beautiful floral combination is just what you need to clear your mind and soothe your body! Made with real hibiscus flower, real Manuka honey, and real ginger.
Variations in colour may occur from different batches; that is because we source real ingredients all-year-round!
One 250mL bottle = 12 drinks. Bottles and caps are 100% recyclable. Please remove labels and rinse bottles before recycling.

Please note: the minimum total order value must be at least $69.95 (orders with discounts are also to be this minimum) before shipping to receive FREE DELIVERY. Thank you for your understanding.

SKU: 10000-50