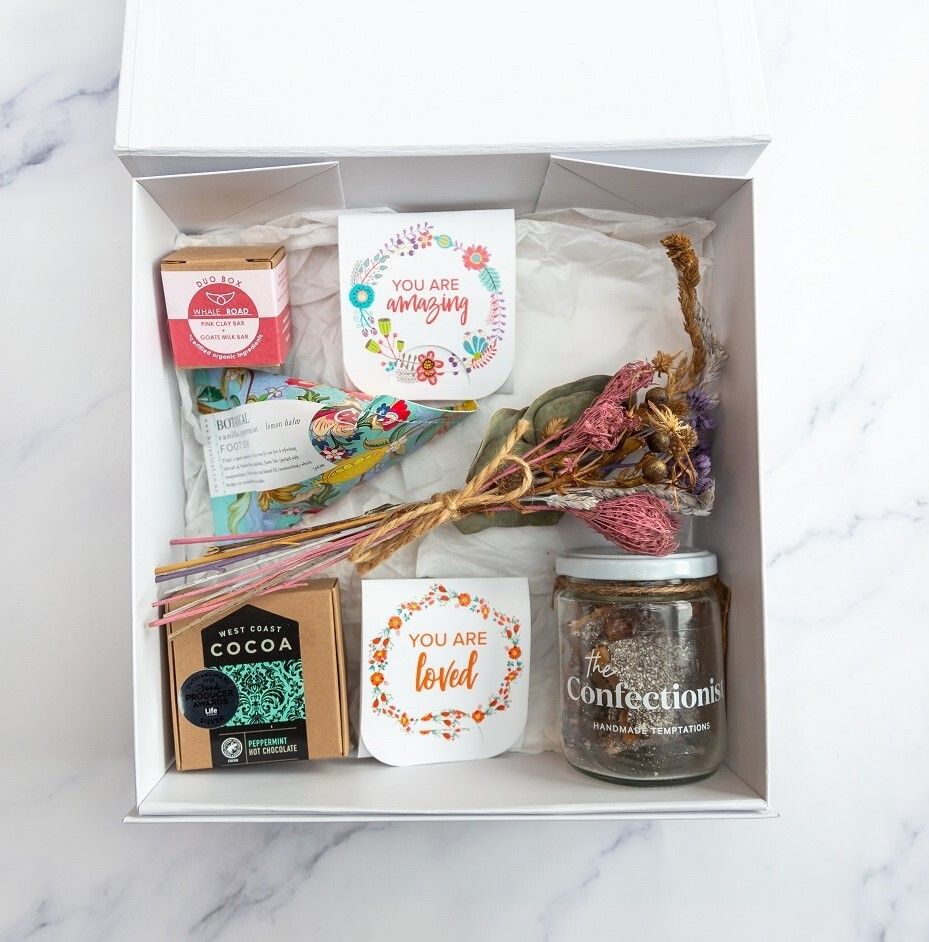 Appreciation Goodness
$69.95
FREE DELIVERY WITHIN NEW ZEALAND.
A selection of beautiful products designed to show your loved one how special they are.


This Goodness Box includes:
Dark Chocolate & Almond Toffee (small jar). Made by The Confectionist. A delicious treat of indulgent traditional brittle style toffee with moreish roasted almonds, coated with dark chocolate and dusted with fine almonds.
Duo Soap Box - Pink Clay + Goats Milk. Two individually packaged petite soap bars in a single box. Perfect for a weekend away, or a trip to the gym. Pink Clay Bar is formulated to very gently draw out impurities, promoting beautiful radiant skin. Goats Milk Bar, a great all-rounder, suitable for all skin types.
These bars fits our Kauri travel containers.
Free of parabens, SLS's propylene glycol + phthalates & siliconescruelty free - not tested on animals
Vanilla, Peppermint + Lemon Balm Foot Soak. Find a quiet moment to enjoy a fizzy treat for your feet. A refreshing blend of Sodium Bicarbonate (alkalising), Epsom Salts (packed with magnesium), Green Clay (purifies) and Almond Oil (moisturising) which helps to revitalise tired feet and ankles..
Directions - Drop this fizzy treat into warm water and
soak feet for as long as necessary.

PositiviTeas - Hug in a Mug, The PositiviTeas™ range is a beautiful collection of single-serve Tea Bags. Lovingly encased within a printed card, you'll find a compostable, plastic-free Tea Bag, filled with the finest premium, organic tea from Charity Tea™. This isn't just a Tea Bag. It's a card, it's a gift, it's an experience!
1 x You Are Loved tea bag (Organic Peach Honeybush) and 1 x You Are Amazing (Organic Kawakawa Lemon and Ginger)
Small Dried Flower Arrangement. To give your gift box that special touch we have included a dried flower arrangement made by Flowers Et Cetera.
West Coast Cocoa. Exceptional flavour. Premium quality West African "Dutched" Cocoa. Each batch of hot chocolate and chai is blended with care in small batches to ensure consistency and premium quality. Gluten-free, dairy-free, vegan.
50 grams (2 serves).box. Recyclable cardboard box and plastic wrap can be recycled as a soft plastic.
High quality gift box with magnetic close lid. Please reuse - fantastic for storing items!
Our paper packaging is eco friendly, biodegradable and recyclable, and even our stickers are eco stickers. Send an eco friendly gift box today!
Gift box comes with small blank note card to add a personalised message to. You are welcome to upgrade by purchasing a beautiful, all occasions greeting card.
*Please note, some products and flavours may differ from images shown. On the rare occasion that we are out of stock on a certain item, we will replace the product with similar options of equal or greater value.
SKU: 10000-61