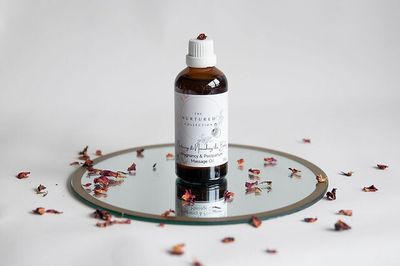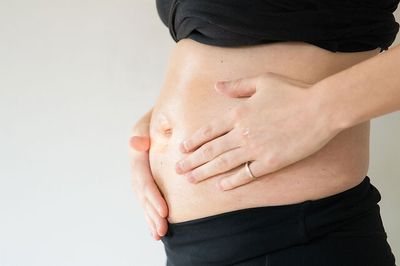 Pregnancy & Postpartum Massage Oil
$32.00
Please select either a Small or Large gift box first before selecting items.
100 mls. A beautiful natural & nourishing oil infused with carefully selected botanicals to support your skin throughout pregnancy as it naturally grows and stretches with your baby and to support your skin in your postpartum recovery, providing naturally healing properties.

Provides hydration to help the skin feel smooth & soft
Reduces skin tightness & itching
Aids in the repair of skin during postpartum
Rich in Vitamins A, C, D & E
Suitable for use on all skin types
100% Natural and safe to use throughout pregnancy & postpartum

This massage oil is made in small batches, handmade from natural & organic botanicals specifically chosen and approved by a Naturopath & Herbalist.

**The Nurtured Collection's range of products are not intended to be used in place of any treatment or advice from your health practitioner. Please check with your chosen health professional if you have any concerns about using any of the specific herbs, particularly if you are on existing medication.
INGREDIENTS & BENEFITS
Apricot Kernel Oil (Prunus armeniaca): contains high levels of Vitamin E & A helping to promote healing & prevent skin damage with antioxidant and anti-inflammatory properties.

Sunflower Oil* (Helianthus annuus): contains high levels of Vitamin E and omegas 6 & 9 (linoleic acid and oleic acid) essential for maintaining healthy skin, helping to retain mositure and reinforcing the skins natural barrier.

Chamomile Flower* (Matricaria recutita): has soothing, healing, anti-oxidant, and anti-inflammatory properties providing benefits for wound healing, inflammation & redness, especially soothing for sensitive skin types.

Calendula Flower* (Calendula offincalis): primarily known as a healing plant because of its soothing abilities with antibacterial, antifungal, and anti-inflammatory properties. Also aids in sustaining soothed & hydrated skin.

Rose Petals*: are anti-bacterial and calming in nature excellent for hydrating the skin, making it soft, helping soothe irritated skin and reducing redness.

Vitamin E: an antioxidant, helping protect cells from damage throughout your body and creating a natural barrier to keep moisture in your skin and feeling soft.
*Certified Organic Ingredients
Please note: the minimum total order value must be at least $69.95 (orders with discounts are also to be this minimum) before shipping to receive FREE DELIVERY. Thank you for your understanding.

SKU: 10000-76