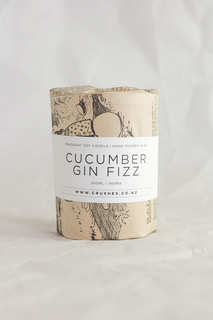 Cucumber Gin Fizz Candle
$44.95
Please select either a Small or Large gift box first before selecting items.
CRUSHES new delicious Cocktail Soy Candles have arrived - and they smell even better than they sound!
Cucumber Gin Fizz is a fresh blend of cucumber, ginger, mint and gin that smells so refreshing you could drink it! (Not advised).
This delicious concoction comes in a amber glass canister with a black wooden lid. Finished your candle? No worries, now you have a lovely glass canister to use anyway you wish!
- The candle comes wrapped in vintage New Zealand newspaper.- 300g of scented soy wax-
Approximate burn time of 90 hours- Canister measures 9.82cm high x 8.71cm wide
And once you're done with this candle, Crushes is now collecting vessels for re-use. Click here to see how to properly clean out your vessel for re-use!
Please note: the minimum total order value must be at least $69.95 (orders with discounts are also to be this minimum) before shipping to receive FREE DELIVERY. Thank you for your understanding.

SKU: 10000-83