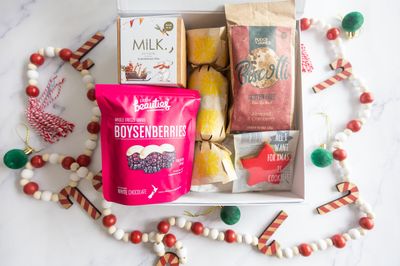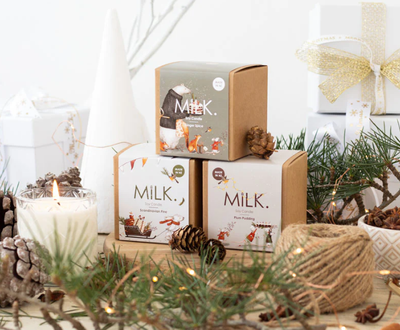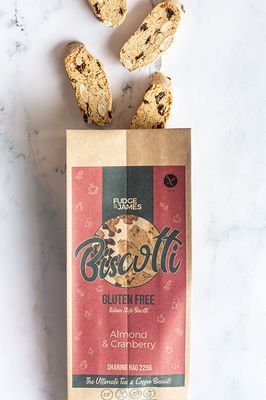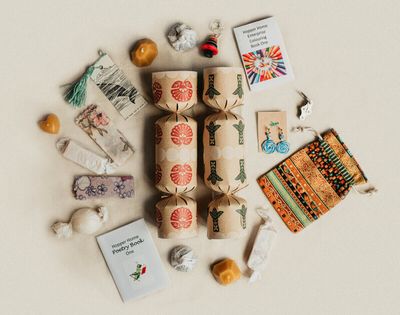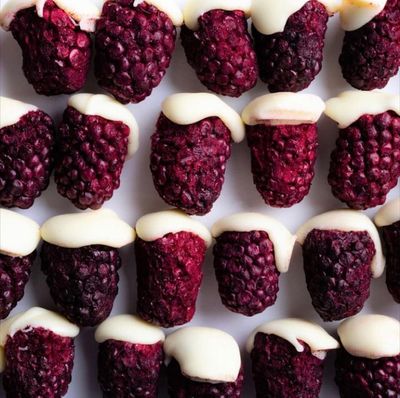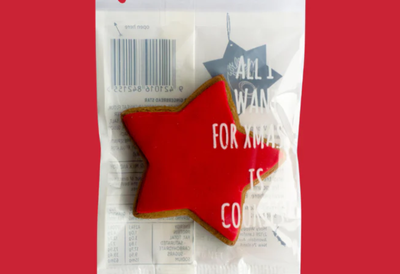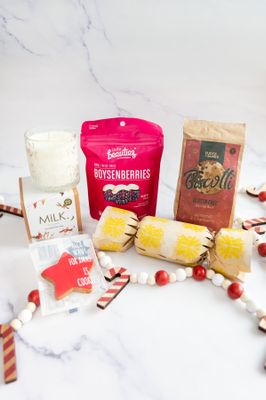 Good Tidings
$84.95
FREE DELIVERY WITHIN NEW ZEALAND. Pre-order your box of goodness today for delivery within your desired timeframe during December.
A beautiful eco-friendly gift box to show friends and family how much you care. As well as delicious, artisan treats designed for sharing, the stunning scented candle, and handmade, eco-friendly cracker add the perfect touch for festivities!
Christmas Scented Jar Candle by Studio Milk. Professionally packaged for a Scandinavian themed Christmas, these candles would make an ideal gift for any candle lover. The patterned glass jars sparkle when lit creating a dazzling display of light.
Burn Time: 40 hrs
Volume: 180ml, single wick
Presentation: kraft box with sleeve: 80x80x80mm
Scents: Scandinavian Pine, Ginger Spice, and Plum Pudding, Please note if your preferred scent isn't available we will choose a different one for you.

Freeze-Dried Boysenberries with White Chocolate, Bursting with New Zealand goodness, Little Beauties freeze dry the whole berries to seal in the special taste and crunchy texture. Paired with a dollop of white chocolate, these Little Beauties are a delightfully moreish treat which you'll find hard to put down.
Soft recycling packaging.
Eco cracker made in Wellington by Hopper Refill and filled with love - with useful and often upcycled products (e.g. card wallets made from billboards, bookmarks, candles, pencils, lavender parcels to name a few). These 'eco' crackers also have two funny jokes (really) and a wise saying, plus the adjustable crown is assembled from the cracker shell itself! Hopper Refill endeavours to reduce waste, and to employ and support locals.
Gluten Free Almond and Cranberry Biscotti- 125g, Fudge and James Almond and Cranberry flavour Biscotti made with gluten free ingredients. Crunchy almonds with sweet and tangy cranberries.
Festive Gingerbread Star Cookie Iced Red 24g Molly Woppy's red Festive Star cookies are simply Christmas Love at First Bite®. Made with their delicious signature Molly Woppy gingerbread recipe and iced with bright red fondant they are great for sharing with those you love.
All packaged festively in a high quality, white magnetic close lid gift box.
We'll also add your personalised message on a complimentary notecard.
SKU: 10000-88-2