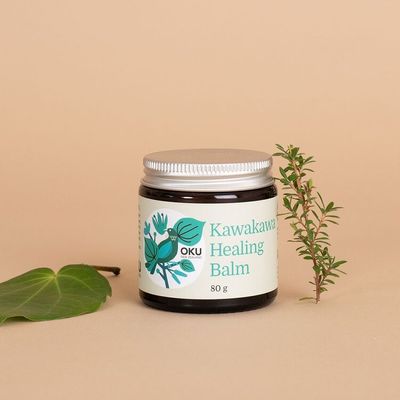 Kawakawa Healing Balm 80g
$32.95
Please select either a Small or Large gift box first before selecting items.
A premium soothing, cooling and healing balm that is largely made up of the incredible NZ Herbs Kawakawa & Houhere blended with the wonderful properties of Calendula Flower & NZ Hemp Seed Oils. The herbs are complemented with the diverse qualities of German Chamomile & Mānuka Essential Oils. These ingredients are added to a nourishing & moisturising 100% natural base of Fair Trade Shea Butter, Coconut Oil & NZ Beeswax. This product can be used on broken skin and may support many different skin complaints. Gentle enough for delicate baby skin but strong enough to support adult skin complaints.
Ingredients: Kawakawa*, Shea Butter+, Coconut Oil+, NZ Hemp Seed, Houhere*, Calendula+, NZ Beeswax+, German Chamomile+ & Manuka Essential Oils*, Crab Apple BF
+Organic or *Wildharvested
Please note: the minimum total order value must be at least $69.95 (orders with discounts are also to be this minimum) before shipping to receive FREE DELIVERY. Thank you for your understanding.

SKU: 10000-106