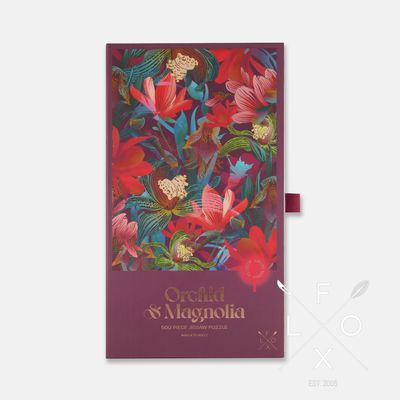 Orchid & Magnolia 500 Piece Puzzle by Flox
$45.00
Please note: this puzzle will only fit in a large box.
Nurture your calming flow state with FLOX's new limited edition Orchid and Magnolia 500 pc puzzle. Featuring her trademark natural world iconography teamed with quality materials and bespoke packaging, this mindful activity is an enjoyable way to relax, unwind and take a minute for yourself.

Suitable for ages 8+

DIMENSIONS OF PUZZLE: 570 mm x 420 mm
DIMENSIONS OF BOX: 298 mm x 168 mm x 58 mm
COTTON BAG: 340 mm x 220 mm
Please note: the minimum total order value must be at least $69.95 (orders with discounts are also to be this minimum) before shipping to receive FREE DELIVERY. Thank you for your understanding.

SKU: 10000-108