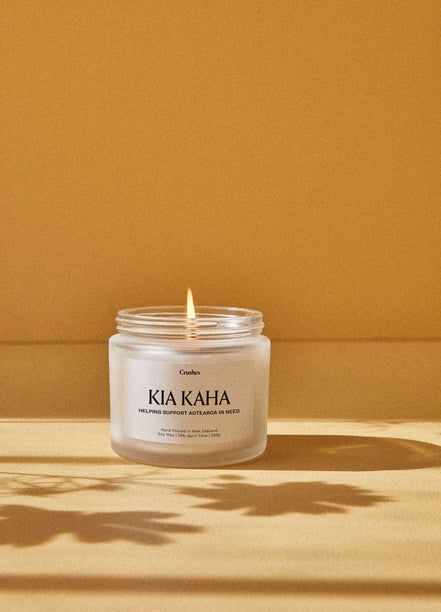 Kia Kaha - Fundraiser Candle for Ngāti Kahungunu Iwi
$45.00
Please select either a Small or Large gift box first before selecting items.
Crushes are devastated about watching Cyclone Gabrielle tear through communities, so we wanted to help. People love their candles, so they've made one especially where all profits of this Kia Kaha candle will be donated to Ngāti Kahungunu Iwi who are an East Coast iwi who have been affected by the floods, and are supporting their community, and distributing koha where they see fit. If you don't want a candle, but are motivated to give, click here to give directly to Ngāti Kahungunu Iwi


PLEASE NOTE: This is a fresh and sweet smelling candle; Like chocolate but with fresh top notes like lily and citrus, and grounded with musk. - 250g of 100% soy wax- Hand-poured here in Auckland, New Zealand- Will burn for approximately 75 hours- Safe, clean burning as we use unbleached, 100% cotton paper braided wicks, 100% soy wax and certified 'Natural fragrance'. Read more about Crushes mindful manufacturing and commitment to safe, fragrant candles here


And once you're done with this candle, Crushes is now collecting vessels for re-use. Click here to see how to properly clean out your vessel for re-use! When you bring back your clean vessel, you get 10% back towards your next candle purchase!
Please note: the minimum total order value must be at least $69.95 (orders with discounts are also to be this minimum) before shipping to receive FREE DELIVERY. Thank you for your understanding.

SKU: 10000-129